The market for online flight booking is very competitive. Online travel agencies are struggling with customer acquisition as profit margins are small and the product seems to be the same at any supplier. In the end a lot of websites try to make a difference by depressing prices, which leads to a race to the bottom and declining customer experience.
Especially at metasearch engines the online travel agencies try to rank as high as possible. In order to achieve this they show very low net-prices, which are only bookable under certain circumstances. Customers can only book flights at these prices if they renounce any service and pay with a very specific credit card.
Opodo and eDreams both attracted negative attention in the past due to hidden extra costs. Both belong to Odigeo, one of the world's biggest supplier of flight tickets with almost 10 million bookings per year.
If you search a flight on eDreams from Brussels to Berlin, prices for Ryanair flights start from 7.24€. At Ryanair's website the same flight costs 9.99€. How is that possible?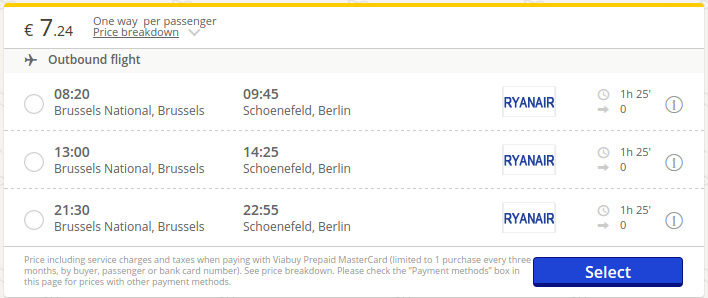 By investigating the data that eDreams sends to the metasearch engines, the pricing can be reproduced: eDreams offers flights with a negative profit margin, which means that they sell tickets for less than they actually have to pay for. That's why you can book Ryanair flights for less than the official price.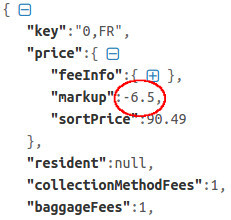 Depending on entry point (if you accessed the website directly or via a flight search engine), country and route, even free flights are possible.

Understandably eDreams tries to overcompensate for that loss by extra charges in the payment process and by offering extra services such as travel insurances and other useless products.
Furthermore they try to avoid those flight-bookings by offering very limited free payment methods. Only exotic credit cards like Visa Entropay or Diners Club are available without extra costs. Other cards will raise the price considerably. The table below shows the algorithm that is used by Odigeo in oder to identify the type of the credit card in the browser.
| Name | Länge | Anfang |
| --- | --- | --- |
| Mastercard Credit | 16 | 51, 52, 53, 54, 55 |
| Mastercard Debit | 16 | 51, 52, 53, 54, 55 |
| Visa Entropay | 13, 16 | 4 |
| Visa Electron | 16 | 40, 41, 44, 45, 49 |
| Visa Debit | 13, 16 | 4 |
| Visa Credit | 13, 16 | 4 |
| Maestro | 12-19 | 5018, 5020, 5038, 5893, 6304, 6759, 6761, 6762, 6763, 0604 |
| Diners Club | 14, 16 | 300, 301, 302, 303, 304, 305, 36, 54, 55 |
| American Express | 15 | 34, 37 |
| Solo | 16, 18, 19 | 6334 |
| Discover | 16 | 6011, 65 |
As you can see the rules for some cards are the same, like for Visa Debit and Visa Credit. However it's not possible to use a Visa Credit card as a Visa Debit card. After clicking the "Book"-button Odigeo checks the credit card's number again and displays the following error message if the credit card does not match the specified type.

Moreover you can only make one booking within 3 months. To prevent further bookings Odigeo checks the passenger's data, email address, phone number and credit card number. 
Our experts have found methods and ways to bypass this regulation so that you can make multiple bookings with the same credit cards within 3 months.

The free payment method changes frequently. Also it can be different depending on entry point and stored cookies.
Odigeo's business practices are against the law in some countries. On 2015-10-01 the German district court of Hamburg judged that Opodo's payment fees violate against German Civil Code. Thus at least one common payment method has to be offered by the travel agency. 
However Opodo haven't changed their payment fees yet.
Create a flightrequest now and let our experts save you money on your next flight.
---
patsy-d
I have booked return flights to Almeria from BHX using my debit card with Thomas cook airline flight taxes fees and other surcharges £111.98 through edreams they have charged £126.
Posted 917d 5h 54m ago
---

Marc (Team)
We recommend to always take a screenshot showing the final price. If they charge more, simply dispute the amount at your bank.
Posted 807d 5h 46m ago
---
cankutcubuk
Most of the pages including edreams apply additional (hidden) cost for card usage.
Even they shows 0 additional cost for the card you use, they apply huge additional cost. After you provide your credit card number, you may scroll down and check if the price changed or not and %100 times it changes. And generally the price and the boxes where you enter your credit card details do not fit all together to same page. So actually they show you the how the price changes but you do not see it.
Actually these extremely reduced flight prices are exist when you use a specific bank card like american express, and they give a discount like 30€. if you use any other card around 50€ will be added to total price.....
Posted 506d 3h 38m ago
---
3
I was shocked that my price hiked by 40 euros in less than 10 minutes. I will never use this site again, con artists!

Posted 408d 12h 0m ago
---
max-damage
Our experts have found methods and ways to bypass this regulation so that you can make multiple bookings with the same credit cards within 3 months.
I would be very grateful if you could explain me how, many thanks!
Posted 405d 3h 49m ago
---
erendumlu
Hello,

How can i bypass e-dreams 3 months rule?

Thx.
Posted 212d 12h 12m ago
---
lamainmaurice
i will never by again a ticket over edreams, they charge always a lot of money extra at the moment you apply the payment, without any explanation, they are legal thieves
Posted 169d 8h 32m ago
---
---